Washburn Rural High School business students traveled to Overland Park, KS to participate in the Kansas Career Development Conference for DECA.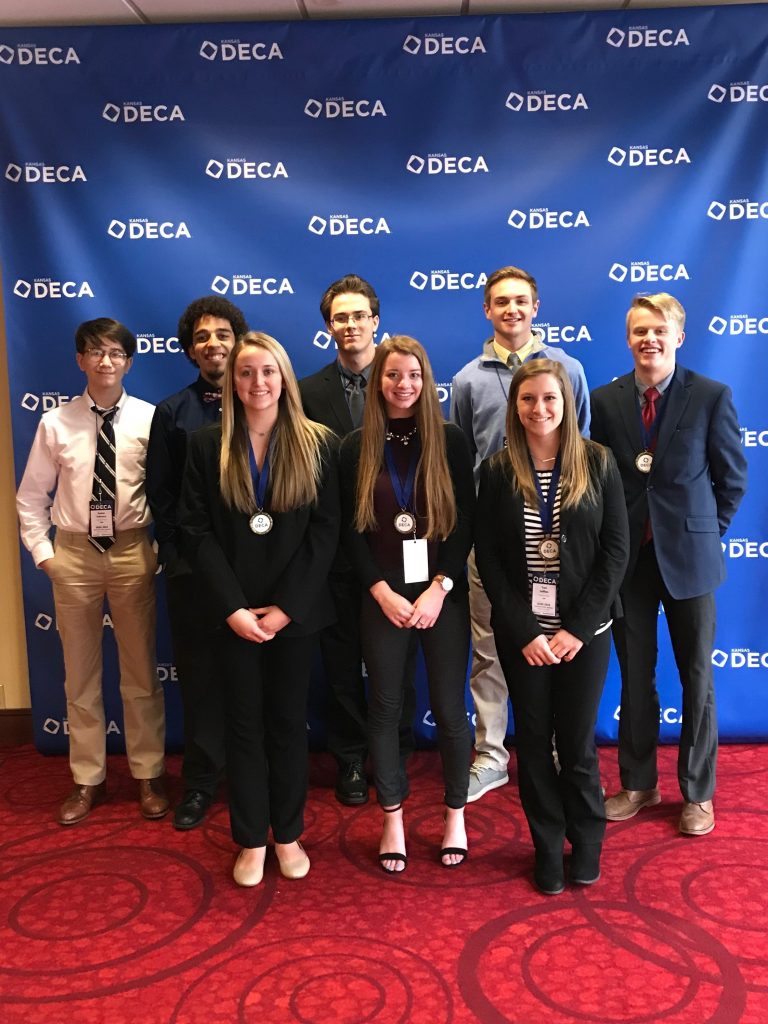 DECA's competitive events program directly supports their mission. As an integral part of the classroom curriculum, DECA's industry-validated competitive events are aligned with the National Curriculum Standards in the career clusters of marketing, business management and administration, finance, and hospitality and tourism. DECA's flagship evaluation process involves students in both a written component such as an exam or report and an interactive component with an industry professional serving as a judge. DECA's competitive events directly contribute to every student being college and career ready when they graduate from high school.
DECA's Competitive Events Program supports the development of 21st Century Skills and Common Core State Standards. Below are crosswalks which are useful tools when planning lessons which incorporate competitive events.
Students that placed in the top 3 get a bid to Nationals. Nationals will take place April 21-25 in Atlanta, GA!
Harper Zimlich – Start-up Business Plan. (The Mixing Bowl) 8th place
Cooper Ramshaw – Franchise Business Plan. (Chick-fil-a) 5th Place
Tori Leffew and Hannah Fritz – Learn and Earn Project. (Blues Cafe) 4th Place
Others that participated but did not place in top 10:
-Principles of Business Management and Administration. James Fokoury
-Principles of Marketing. Justin Pokorny
-Hospitalty and Tourism Team Decision Making. Michael Domme and Charles Dilliehunt
The following DECA Gold Certified Student Based Enterprises will travel to Atlanta to represent WRHS:
-Common Grounds – Justin Pokorny and Cooper Ramshaw
-WRHS Bank – Abby Glynn,  Halley Hutton, Paker Beal
-The Shack – Charles Dilliehunt, Hannah Fritz, Tori Leffew
How can you get involved?
WHO CAN JOIN?
DECA members can begin their experience as early as the ninth grade by enrolling in a marketing, finance, hospitality, business management or entrepreneurship course.
They can retain their membership in DECA as long as they are actively pursuing courses in one of the content areas. As part of a high school chapter, DECA members can take full advantage of DECA activities described below while preparing themselves to be college and career ready upon graduation.
High school students join DECA through their high school chapter, often advised by a faculty member responsible for course content in one of the above career areas. High school chapters are recognized and chartered by the state or provincial association.
DECA membership is open year-round; however, some chartered associations have eligibility deadlines to participate in conferences and competitive events. The deadline for all DECA International Career Development Conference competitors is March 1.
PREPARING EMERGINGLEADERS AND ENTREPRENEURS
By leveraging their DECA membership, members can become:
academically preparedfor college and careers in marketing, finance, hospitality or management
community orientedby gaining an appreciation for the benefits of service and their potential impact on the community and world
professionally responsiblewith ethics, integrity and high standards
experienced leadersby practicing key leadership skills such as goal setting, consensus building and project management.
More than 190,000 DECA members are in 3,500 high school chapters in all 50 states and nine countries.
MEMBERSHIP ACTIVITIES AND BENEFITS
DECA members benefit from activities in DECA's Comprehensive Learning Program. In addition to an official membership pin, DECA members receive four issues of DECA Direct magazine, have opportunities to attend conferences designed to prepare them for college and careers, can earn recognition and prove their knowledge in DECA's Competitive Events Program, can earn their share of more than $300,000 in scholarships and more.
For more information, visit deca.org or wrhsbusiness.com/deca
Contact Information: Brian McFall
mcfalbri@usd437.net
785-339-4247